Meet our sister company, Hawaiian Adventures Kona!
At Island Adventures, we're always looking for opportunities to share our passion for whales, wildlife, and scenery while on the water. An opportunity to continue our world-class tours arose on the Big Island in Kona, Hawaii in the fall of 2020!
Hawaiian Adventures Kona offers small group, world-class, oceanic adventures off the Kona coast. Ranging from spring/summer snorkeling tours to fall/winter whale watching, Hawaiian Adventures Kona runs year-round. They pride themselves on offering the Big Island's ultimate small-group wildlife tour. Their signature 4-5 hour dolphin snorkel tour features the Kona Coast's best opportunity for a true Hawaiian adventure, but they also offer a wide variety of custom, private charters. Whether it's a private or public tour, they limit the passenger count to ensure personalized service.
The crew at Hawaiian Adventures Kona spent the fall of 2020 completely renovating the vessel to get it up to Island Adventures standards. Those Guys is a USCG 20 passenger certified, 38-foot Delta, a brand known for being strong, safe, and seaworthy. Those Guys is the perfect Kona boat. Enjoy the wind and sun protection that the shaded cabin provides, or soak up the sun on the open back deck. Padded seats, ample storage for cameras and gear, and a private restroom make for added comfort while exploring the waters of Hawaii. The height of the flybridge gives your captain a great viewpoint from which to search for wildlife, and the boat's speed allows for a greater search range when needed, an added advantage for any wildlife tour. Fully equipped with a sound system, hydrophone, and professional camera, Those Guys is the perfect platform for a fun, educational and immersive whale watching experience.
Hawaiian Adventures Kona Tours
4-5 Hour Signature Snorkel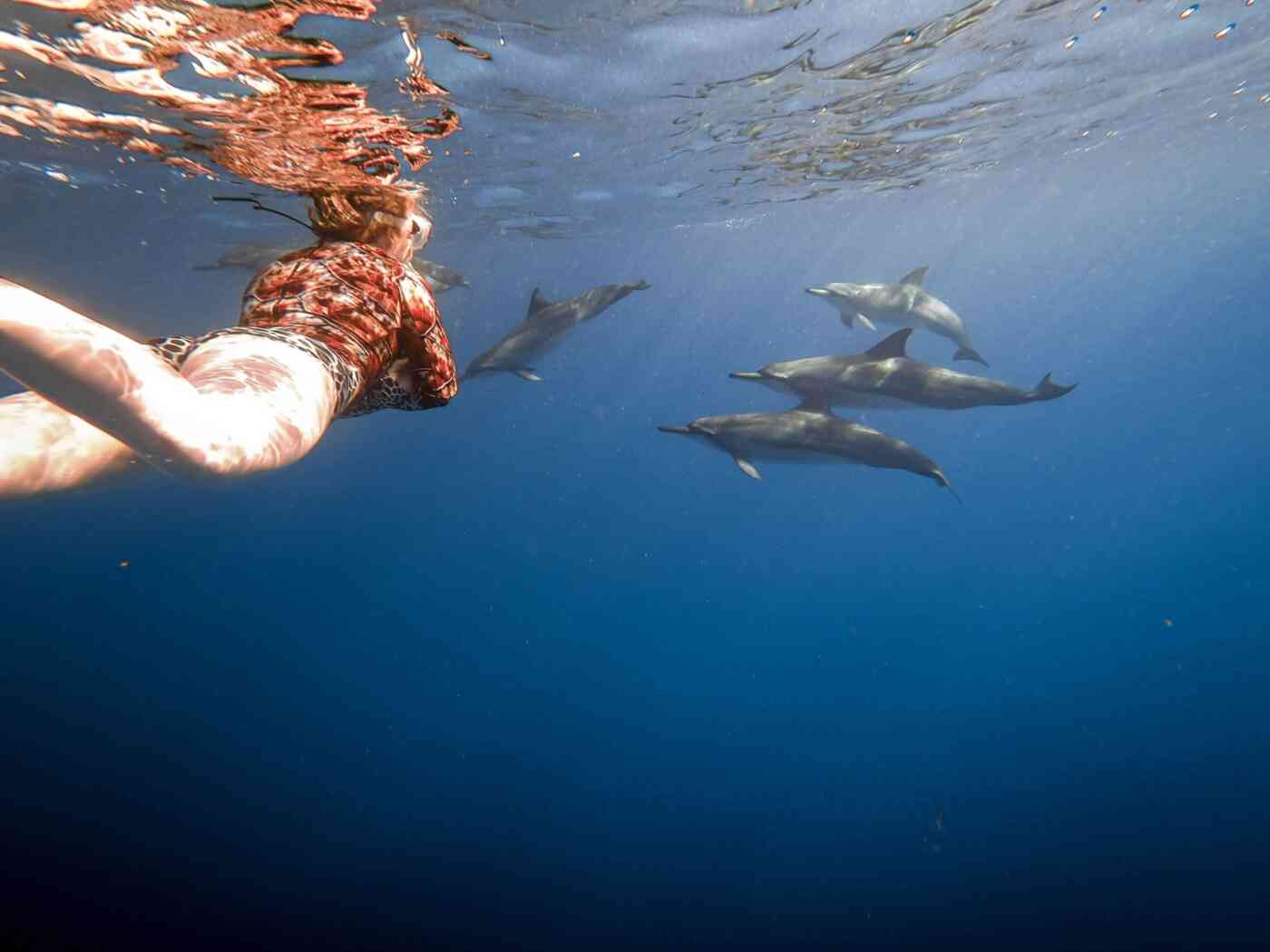 Ultimate In and Out of the Water Dolphin Encounter
Be one of the first boats out on the water with an early morning departure, enabling you to avoid the crowds while enjoying the calmest conditions of the day. Scan the beautiful blues of the Kona Coast for spinner dolphins, manta rays, sea turtles, sharks, or over-wintering humpback whales. We recommend wearing a swimsuit, as you never know when the perfect opportunity for an intimate wildlife encounter may arise. Slide off the back swim-step into turquoise waters, and easily climb back onboard with our deep swim-ladder. Once back onboard, rinse-off with a fresh-water shower and sink back into padded seats to resume the search. Trust us when we tell you the experience will be well worth the early wakeup.
Pro-tip: If you're traveling from North or South America, book your morning trip within the first few days of your stay in Hawaii to take advantage of that jetlag.
Daily Departures at 7 AM
Regular Price: $199 plus tax/fees per person
Spring Special: Only $149 plus tax/fees per person!
What better way to spend a day in paradise than in the water? Some of our favorite reefs here on the Big Island are just a short boat ride away from Honokohau Harbor, making them perfect locations for a 3-4 hour snorkel tour. Easily slide into the water from our swim-step or ladder and dive beneath the waves to explore coastal coral reefs while seeking out the multitude of species that call them home. Be on the lookout for vibrant schools of yellow-tang, parrotfish munching on the reef, urchins grazing on algae, sea cucumbers cleaning up the benthos, sea turtles coming up for a breath, spotted eagle rays gliding on by, or if luck favors you perhaps, you'll chance an encounter with a graceful manta ray or one of the resident tiger sharks!
Daily Departures at 1 PM
Regular Price: $125 plus taxes and fees per person
Spring Special: Only $99 plus tax/fees per person!
Hawaiian Adventures Kona Tour Information
The newly redesigned vessel Those Guys boasts a brand new swim ladder and swim-step off of the back of the boat. Guests can easily enter and exit the water, making Those Guys perfect for both inshore and offshore snorkeling tours.
Comfortable Seating
Enjoy the wind and sun protection that the shaded cabin provides, or soak up the sun on the open sundeck, with comfortable and spacious seating options throughout.
Hydrophone
The humpback breeding season is one of the few opportunities to experience one of nature's great wonders, the symphony of humpback whale song. There is nothing quite like listening to the music of the whales, while watching them do their thing.
Onboard Restroom
Onboard private restroom, an appreciated added amenity on small-group tours.
Photography
Let our experienced naturalists capture the very best of your wildlife encounter with our professional camera equipment. Easily downloadable photos available for purchase online the day after your adventure.
Small Groups
Those Guys was designed to provide the ultimate small-group experience. Limited group sizes give you a personalized experience, making a trip with us the highlight of your time on the Big Island!