Reservations are highly recommended. We do accept walk-ups when space is available, but at times we do fill up days in advance and have to turn people away. The best way to ensure you have a spot on one of our tours is to book your tour online, or give us a call to reserve in advance.
All guests must be checked-in and ready to board the vessel 30 minutes prior to the scheduled departure time. Both Anacortes and Everett tours check-in directly at the dock!
Arrive Early
Arriving early can set the right mood and tempo for your trip. It's definitely not pleasant rushing down to the boat or dealing with the stress of missing your tour. All guests must be checked in and boarded 15 minutes prior to the scheduled departure. We suggest arriving at the marina at least 30 minutes prior to your departure time will ensure you have time to find parking, pay for parking (in Everett), and gather your belongings before heading out on the water for a great adventure.
Dress for Success
One of the biggest keys to having an enjoyable trip is wearing layers. Be sure to bring layers with you for your tour, regardless of the season. Temperatures can feel 10-20 degrees cooler on the water, so it's recommended that everyone in the group bring a sweatshirt and jacket. There's plenty of room on our vessel to bring an extra bag of layers. The Island Explorer 5 is set up to be the most comfortable vessel in the area with ample indoor seating, but the more time you spend outside the more fun you're going to have!
Onboard Offerings
Come hungry and ready to kick back, relax, and let us take care of the rest! Our state-of-the art vessels offer hot food, snacks, beverages, and beer and wine for sale. You're more than welcome to bring any food item you'd like, but our convenient cashless cafes have plenty of options. Sample menus for all vessels can be found here:
Photography Tips
The Island Explorer vessels are the best photography platforms in the area. The upper viewing decks separate us from others, and give us an unparalleled vantage point over the water. Our guests use everything from professional-grade telephoto setups to iPhones and everything in between. We recommend monopods instead of tripods if you're in need of a little extra support.
Don't want to deal with a camera? Don't worry! Our professional naturalists will be capturing shots throughout the tour. Souvenir thumb drives with photos from your adventure will be available for purchase on the boat before the end of every tour.
FAQ's
There are 3 things we cannot control: weather, whales, and our guests' expectations. We hope that by reading these frequently asked questions, you'll be better prepared for your next Island Adventures tour!

Everett Check In Procedures
Check-In: 402 14th Street, Everett, WA 98201

For our gray whale tours from Everett, boarding time begins 20-30 minutes prior to departure. The Island Explorer 5 is docked on Guest Dock 3. Report directly to the boat for check-in.
Island Adventures guests should park in the Visitor Parking areas in the parking lot. Please make sure that you have pre-paid for parking prior to your tour's departure by either paying via the LAZ app on your phone, scanning one of the QR codes from one of the many parking signs, or stopping by the pay station on your way in that is located on Craftsman Way (right across from Scuttlebutt Brewery). Although our tours are 2-hours in length, we recommend paying the minimal $2 fee for 2-4 hours of parking since we do ask guests to arrive at least 20 minutes early for boarding prior to the scheduled departure time.
Check-In Tips
Please park in Visitor Parking
Arrive 30-40 minutes prior to departure to ensure you have enough time to find and pay for parking
Pay for parking prior to boarding for your tour
No need for paperwork
Bring layers and sunscreen
Remember your debit or credit card
Bring your camera
Anacortes Check In Procedures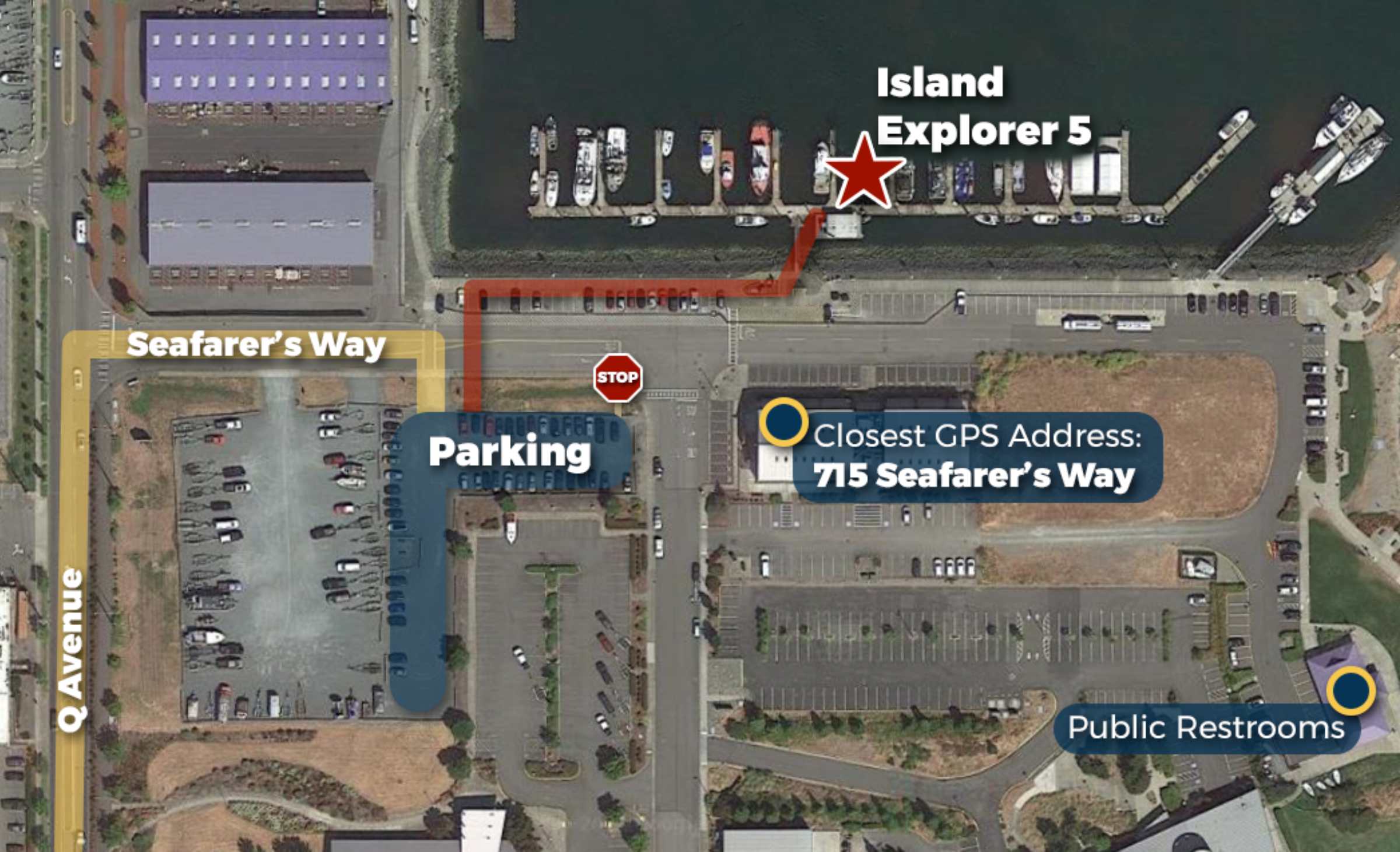 Please proceed directly to the marina for check in. The closest address to enter into your navigation system is:
712 Seafarer's Way
Anacortes, WA 98221
Please park in the gravel parking lot on your right before the stop sign (see map above). Please do not park in any spaces marked "Reserved" or "2-Hour Parking". Island Adventures can not be responsible if you are towed for parking anywhere other than in the gravel parking lot.
After parking, please walk across the street to Dock A and proceed down the ramp to the Island Explorer 5.

Check In Tips
Arrive early
No need for paperwork
Bring layers and sunscreen
Remember your debit or credit card
Bring your camera
Online Reservations
Make a reservation online with our secure system and receive an immediate email confirmation.
Whale Report
See what we've seen on the water. There's a detailed account from every tour since 2003!